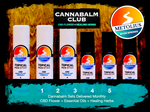 In typical Metolius Hemp fashion, we set out to do something super unique…and we did it. In fact, our Cannagar, Cannaroll, and Cannarock clubs are the first in the WORLD! Organically-grown CBD & CBG Hemp Products delivered straight to your door. You choose between 3 to 30 Premium Hemp Cigars, 10 to 100 Premium Hemp Pre-rolls, or 3 to 30 grams of Enhanced CBG Flower each month.  
The Metolius 'Canna Clubs' bring you three different tiers of memberships - Bronze, Silver & Gold. Each month, you'll receive your custom order of Enhanced CBD & CBG Hemp Cigars, Pre-rolls or Moonrocks, along with some special surprises & unique perks that line up with your membership. We ship you everything you need to get started, and in an eco-friendly fashion for you to store all of your Metolius product to keep it extra fresh. We utilize sustainable packaging, so you can refill, instead of tossing it in the landfill. You'll also be the first to receive the latest and greatest on any new products, gear, and official brand merch that we launch. 
Now, let's get to the bottom line. Not only are you going to ease all of your worries, aches, and pains by joining the World's First Canna Club, but you're also getting a screaming good deal on some of the most unique CBG & CBD Hemp products out there. We launched our monthly subscription programs with you in mind, the conscious consumer who turns to plant medicine on a regular basis. The savings in signing up for our subscription services are undeniably worth it: 60-75% off Retail Prices! By joining our Cannagar Club, a 3-gram Enhanced CBG:CBD Hemp Cigar suddenly becomes $10.95, instead of $44.95 retail value. Sign up for the Cannaroll Club, and have fresh CBG & CBG Pre-rolls dropped on your doorstep for under $4 each when they usually cost $15. Need we say more?
At Metolius Hemp, we are now seeing a large number of tobacco users turning to hemp products to reduce or replace their regular smoking habits. Our Cannagar, Cannaroll & Cannarock clubs are a great way to kick that tobacco consumption once and for all. Start enjoying the benefits of the most medicinally impactful plant on earth, at the most affordable rates. Sign up for the Canna Club of your choice today, and Roll with Us!